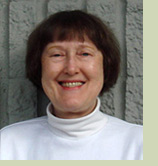 My paintings evolve as I work, which is a creative joy. I create mixed media abstracts that usually contain some recognizable images. My materials include acrylic paints, colored pencils, graphite pencils, ink, charcoal, water-soluble crayons, hand-painted collage papers, found objects, hand-carved stamps, and fabric scraps. I paint on canvas, paper, and wood. I like to recycle and reuse lots of things, including my own paintings.

I also take digital photos, and modify the images into abstract pieces on the computer. This can be as creative and fun as painting but with less cleanup. However, I do find that photos can be as time-consuming to work on as creating a painting.

There's often a bit of whimsy in my art. After I think a piece is finished, a happy accident or a different orientation can cause me to keep working. In the end, I am amazed at the stages my art has gone through.

I exhibit in local area shows, including some juried shows, and have won a modest number of awards. My paintings and photos are in local private collections.
View Marcia's Gallery


The controls allow you to pause, rewind or forward the display; click the

'grid' symbol to display the floating thumbnail palette to select artwork; use the slider to set the speed.