Artist Statement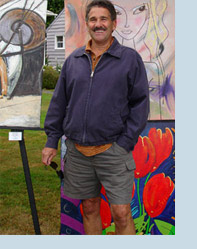 I am a painter, and my only regret is that I did not start earlier. Abstraction is my favorite style, emphasizing color, form, spatial and textural compositions. Painting, for me, is a spiritual creative journey combining intuition and the subconscious. The artist's ability to materialize a concept and create artwork is even more rewarding, considering the busy world we live in, dominated by high-tech and mechanistic processes.

Hopefully, my compositions appeal to the emotions in the same way that music does. My goal for the viewer is purely a visual experience. Relax and enjoy yourself, as you would a dance.


"The imagination is our True Self, and is in fact
The Living, Creating God within us."
— Stephen Nachmanovitch


About My Prints

I paint original artworks in acrylics on canvas and then have them professionally photographed and turned into affordable giclee. A giclee (zhee-CLAY) is an individually produced, high-resolution, high-fidelity reproduction done on a special large format printer.

My giclees are created by Portland, Oregon based PixelPoint Artistry founder David Hooten who prints my works on archival paper (or on unstretched canvas, as is the case for my horizontal series).

About Giclees
Conform to archival standards consistent with collectible fine art
Are produced excusively using pigment based archival inks; no dyes
One-at-a-time, combining state of the art technology with traditional craftsmanship
Find Denny Locally...

Denny Lumsden sells his colorful paintings in Oregon (weather permitting) on Saturdays from 9 am to 2 pm from May through October at Beaverton Farmers Market. You can find his booth located at 3rd Street and Washington, near the public library.
View Denny's Gallery


The controls allow you to pause, rewind or forward the display; click the

'grid' symbol to display the floating thumbnail palette to select artwork; use the slider to set the speed.

Purchasing My Work

To inquire about an artist work, click on the image to be directed to a convenient contact form or call the artist at 503-645-0660. Prices and available giclee sizes are listed below each image. If you are located in the Beaverton, Oregon area, free delivery is available.



All giclees are shipped without frame or mat in a rigid mailing envelope (except for canvases which are rolled, unstretched and shipped in a sturdy mailing tube.)

Shipping charges apply.



Some originals are still available—please inquire if you are interested.